Sometimes we can be misled to think that prosperity is about acquiring money or things. True prosperity is a state of mind. We develop a consciousness of prosperity when we live from the awareness that we are always surrounded in the abundance of God. Charles Fillmore, the co-founder of Unity, defines prosperity as, "The consciousness of God as the abundant, everywhere present resource, unfailing, ready for all who open themselves to it through faith."

We can open ourselves to greater prosperity by having faith in God as our all-providing source and remembering that all of our needs are being met. All we have to do to claim that prosperity is turn to Spirit and allow those divine ideas to take form in our lives. If you want to have more prosperity in your life, try a few of these spiritual prosperity practices:
Put God first in all that you do by taking time for prayer and meditation throughout your day.
Practice gratitude by keeping a daily list of all the things you are grateful for in your life.
Tithe your time & money to the place(s) where you are spiritually enriched.
Let go of clutter - in your home or limiting beliefs in your mind - and make space for more good.
Use prosperity affirmations daily.
Know and remember that these statements are the Truth about you.
As you incorporate these practices into your daily life, you will be richly blessed!

Prosperity Affirmations
Knowing that God is my unlimited source of supply, I walk in the way of success and prosperity.
In my growing awareness of God, divine ideas are revealed to me and I am richly prospered.
The spirit of God moves through me as divine ideas; I am abundantly prospered.
Centered in the awareness of God, I am ready, willing, and worthy to receive extraordinary abundance.
Centered in the awareness of God, the universe gives abundantly, I receive gratefully, and I give again generously.
God is my unfailing source and unlimited supply. I am prosperous!
I am one with the all-providing love of God that assures me of abundance.






"Be transformed by the renewing of your minds."

—Romans 12:2
Our Journeys, Our Stories
By Iyanla Vanzant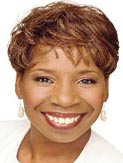 My mother passed away when I was two, and for the next four years I was raised by my paternal grandmother, Rissie Harris. Grandmother was a Native American, and she taught me that the presence of God is in everyone and everything. She explained that we each have a responsibility to God in everything we do.

Maintaining her Native American traditions, Grandmother also embraced fundamentalist Christian teachings. Much later in life, I was able to understand that she taught me spiritual principles.

Prayer has always been an important part of my life. Grandmother was a prayer warrior in the little Pentecostal church we attended. She held the high watch during services and prayer vigils. Sometimes we would go to church on Friday evening, start praying at midnight, and continue to pray until 6 a.m. Sunday.

However, as a teenager I did what many teenagers do: I rebelled. I rebelled against the fundamentalist teachings, which I found too strict and confining. By the time I was sixteen, I was a mother, and by age nineteen, I found myself in a physically abusive marriage. It wasn't until I was in my late twenties that I understood my life could be different. By then I had three children, but I was determined to finish my education and make a new life for us.